Work carried out by Paul and Darren Callaghan.
Lime Stuff supplied:
EARTHBORN CLAYPAINT (DONKEY RIDE)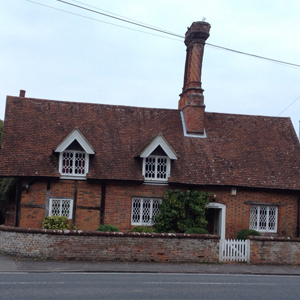 The kitchen is the oldest part of the cottage dating back to the 16th century. The owners wanted to replace the kitchen units and the inappropriate plasterboarded walls and ceilings to allow the walls to breathe. Being timber framed with a single skin brick infill in the panels, it was decided that additional insulation was required. Once the plasterboard and fibreglass insulation had been removed, the studwork would stay and THERMAFLEECE COSYWOOL introduced with the WOODWOOL BOARD on top.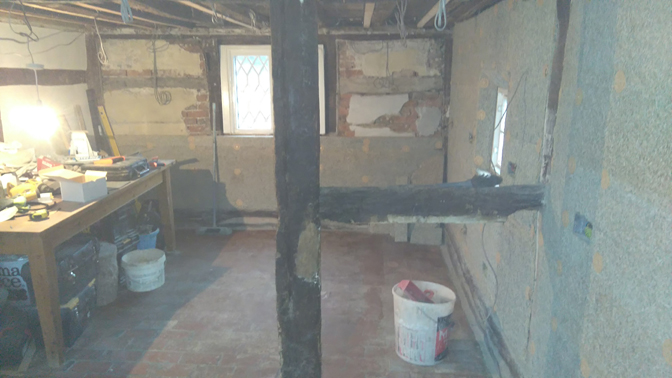 The woodwool board was given 2 x 5mm coats of MEDIUM STUFF with the alkali resistant rendermesh pressed into the first coat immediately after application. After approximately a week a FINE STUFF top coat was added and finished with a wooden float to leave an open texture.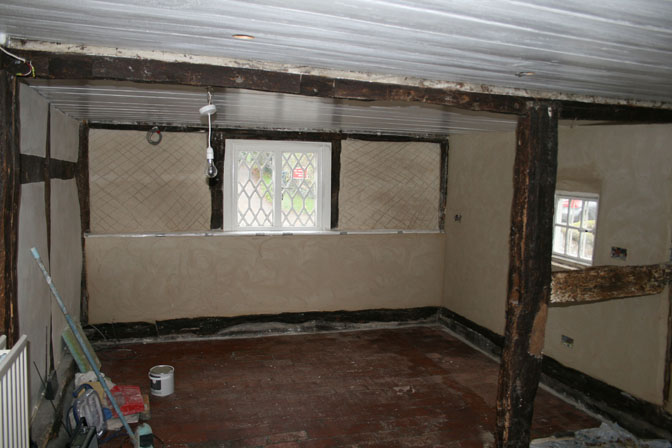 On the upper parts of the wall with the central window it was decided that they would be rendered directly onto the brick infill. A crossbeam in the panels on either side was counter- lathed and a first coat of COARSE STUFF with HORSE HAIR applied. A second coat of MEDIUM STUFF followed by the FINE STUFF was then applied allowing approximately a week between coats.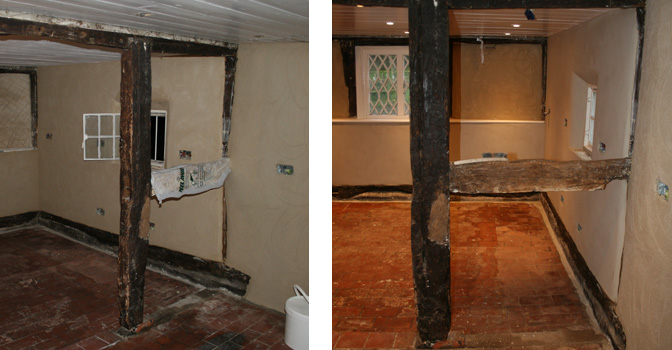 PEELAWAY 7 was applied to the timber beams to remove the dark stain.
Once fully cured the walls were painted in EARTHBORN CLAYPAINT in Donkey Ride.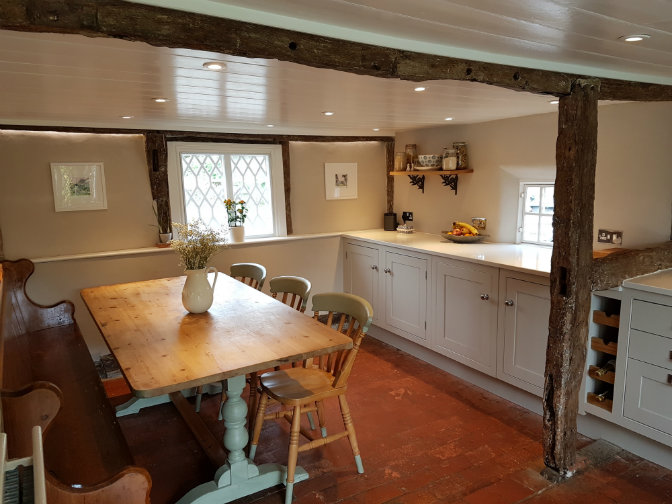 The handmade kitchen and woodwork was painted in EARTHBORN EGGSHELL again in Donkey Ride with the sills and ceiling in White.